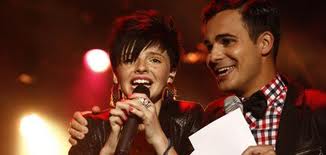 As of September 25th 2011, at 7pm ET Melissa "Charlie" Storwick was chosen out of over 4000 kids to become season 4's Next Star. With over 3 million votes, Charlie and the other top 6 including Parker Schmidt, Milly Benzu, JD Meeboer, Shania Fillmore and April Llave spent 2 months together. By the finale they called each other a family.
Shocked, Charlie starts crying as the other 5 come around and hug her. Afterwards she walks over to the host Adamo Ruggiero as he asks "You gotta finish the show. Do you think you can handle it?" As she responds to the audiance "Do you think i can handle it guys." As the crowd starts cheering.
thumb|left|326px|Melissa "Charlie" Storwick singing "Price Tag" by Jessie J as the winner's song She sing "Price Tag" by Jessie J with a surprise, the other top 5 come on stage and sing back up. Afterwards they have a final hug.After the finale was over they went back stage and finished their final video diaries witch can be viewed on The Next Star site, on their separate pages.